Straman CRX Registration


Click on the Straman number(ST1000) to view full profile of that car

ST1001...1984......1.5
ST100X...1984......1.5
ST1008...1984......1.5.....Actual stamp reads ST108
ST1010...1984......1.5
ST1017...1984......1.3
ST1018...1984......1.5
ST1019...1984......1.5
ST1030...1985......DX
ST1032...1985......DX
ST1042...1985......Dx
ST1047...1985......
ST1060...1985......DX
ST1061...1985......Si
ST1066...1984......HF
ST1069...1985......Si
ST1072...1986......
ST1073...1986......
ST1081...1986......
ST1082...1986......DX
ST1086...1986......DX
ST1103...1987......Si
ST1104...1987......DX
ST1108...1987......Si
STA1116.1987......Si
STR1123.1987.....Si
ST1127...1984.....1.5

Stramans without ST# info
STH8402...1984 in Hot Springs, Ar.
STH8502...1985 in Alaska
STH8503 ..1985 in California
STH8506...1985 in New York
1985 in Pomona
STH8402...1984 in Arkansas
STH8701...1987 in Arizona
STH8505...1985 in Europe
STH8602...1986 in Massachusetts
STH8710....Location Unknown
STH8711...1987 in California
STH8705...1987 in Illinois
STH8709...1987 in Sweden
STH8703...1987 in Tijuana
STH8702...1987 in Washington
STH8706...1987 in Washington DC
1987 Si in Arizona

How to find your ID#
The Straman ID# should be located on the convertible top frame above the drivers door window, this number should read ST1 and then 3 numbers(ST1001) or ST1 and then 2 numbers(ST108). ST1 is supposed to be what all Straman conversions start with, the following numbers are the sequence of the car in the production line. These stampings are bold and clear in some cars but small and faint in others. We have one car that to this point the owner has not found any number, this is a very early car and may have not gotten a stamp but this is unconfirmed.

Here are some pictures to help with locating the ID#.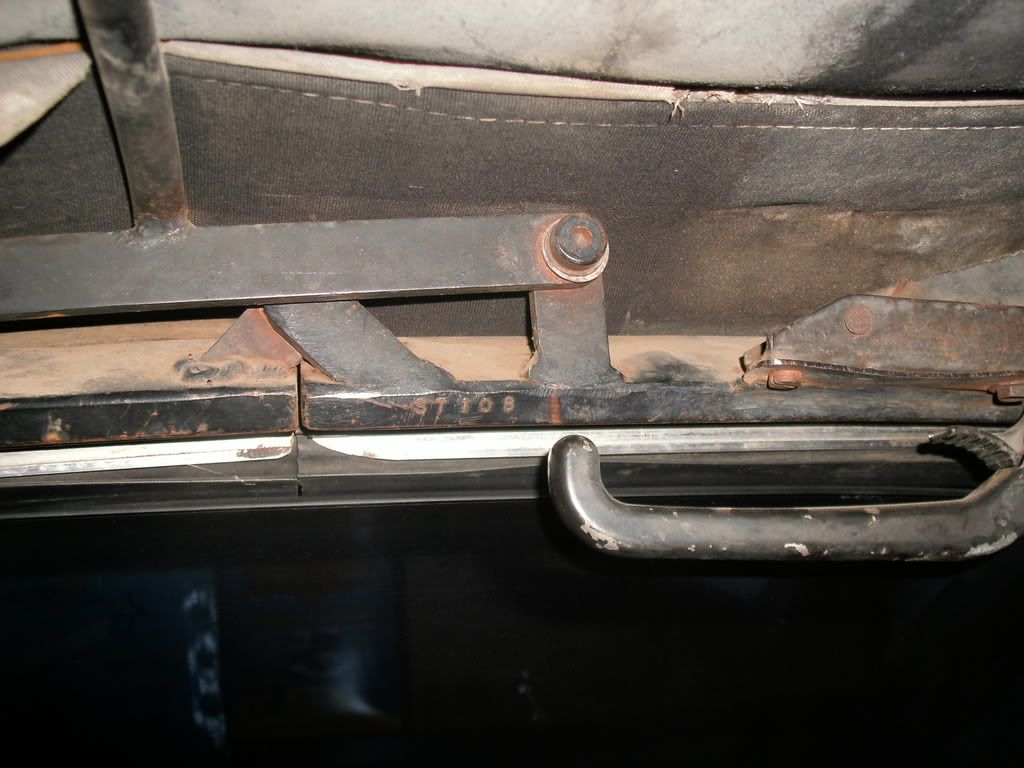 The Men Who Kept the Convertible Going

By JOHN O'DELL, TIMES STAFF WRITER
June 25, 1998

America's automotive moguls are reaping the benefits of the convertible's resurgence these days, but the comeback of the soft top owes far less to the denizens of Detroit than to the no-guts, no-glory gambles of a couple of independent entrepreneurs.

It was Detroit, in fact, that killed the ragtop, citing waning sales as air conditioning, safety concerns and federal fuel-economy rules conspired to dim convertibles' appeal.

When Cadillac dropped the Eldorado in 1976, an era ended.

And it wasn't until six years later, after a Newport Beach Ferrari restorer and a Michigan sunroof maker who started his business in Los Angeles showed the way, that a domestic car company rolled out a new convertible.

The unspoken reason soft tops died out, industry watchers say, is that car makers had been losing money on every one they built. Despite the great degree of expensive hand-finishing a convertible requires, the companies were afraid to charge a premium and priced them on par with the coupes on which they were based.

But Ferrari restorer Richard Straman, whose custom-built Camaro ragtops were selling in Orange and Los Angeles counties for almost 50% more than the coupe in the early 1980s, showed car makers that people would indeed pay more for a convertible.

"They are sporty and unique, and people want that," said David Cole, director of the University of Michigan's Office for the Study of Automotive Transportation.

Car makers didn't believe that in 1976, but within a few years they were shocked by the big bucks being raked in by automotive aftermarket firms that were installing sunroofs and T-tops to open cars up to the sun and wind.

"You continually monitor the marketplace," said Jack Witucki, Mustang and Thunderbird brand manager at Ford Motor Co. "When you see people going into the aftermarket to buy custom-made convertibles, and watch the sales of sunroofs, moon roofs and T-tops soar, then you know that people want convertibles and that you'd better start making them again."

Detroit's reentry vehicle was the 1982 Chrylser LeBaron. It was followed in 1983 by the Buick Riviera and the reintroduced Ford Mustang soft top.

Now there are 24 different convertibles available to new-car buyers in California, with at least two more due to hit dealer showrooms in the next six months--the Audi TT and the Mercedes-Benz CLK.