Well i have talked about my ticket not too long ago. 90 in a 50. i went to court and settled 450 fine, with no points. than i get a letter in the mail for driver improvement classes. (Maryland states that your 1st moving violation on your provisionals results in classes.) Second is a 30 day suspension.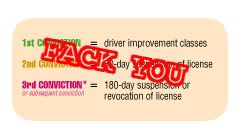 WTF!! so i get both classes and a suspension!? on my first conviction??
gay. im taking that to court as well. hooray!